London Street Gangs: A modern history
Part Four: Operation Shampoo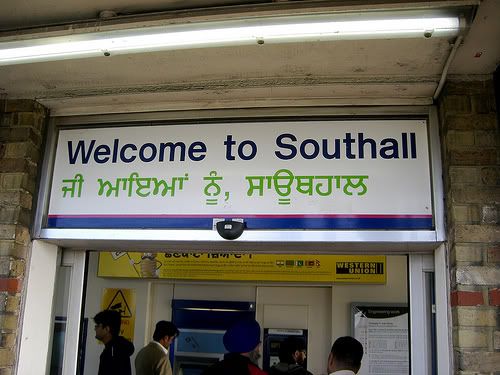 During the 1950's and 1960's Indian and Pakistani immigrants began to arrive in west London, providing a source of cheap employment for the industrial factories located in areas such as Hounslow and Hillingdon. Their intention was to stay temporarily whilst work was available, however, through a combination of immigration regulations and other government policy, workers decided to take up permanent residence and would later be joined by their families. Southall in the London Borough of Ealing, west London, became a draw for South Asians

[i]

. English and Irish residents moved further afield into Hillingdon and beyond whilst Southall grew to be a majority Asian area with less than 15% of residents being white by 1991. The community became dominated by Indian Sikh's and Indian Hindu's, there were also smaller numbers of Muslim's from Pakistan. During the partition of India and Pakistan there were no documented issues occurring in Southall, to the contrary there was said to be unity amongst all Asians in Southall, united in their struggle against oppressive groups such as the British National Party and National Front supporters. Violence targeted at Asians by nationalists provoked a number of protest riots, or race riots, during the 1970's in Southall. On April 23 1979 the National Front chose Southall Town Hall as the venue for a racist campaign which resulted in anti-fascist protester Blair Peach dying after receiving a blow to the head demonstrating against the National Front

[ii]

. Like many Asian communities in Britain, who suffered disproportionately from racial violence when compared to other immigrant groups, those in Southall formed vigilante defence groups. One of the defining influencing moments was, tragically, the heinous killing of teenage student Gurdip Chagger who was stabbed to death by a gang of five white youths on June 4 1976.
Lack of action by the government and police in dealing with racial violence towards immigrant groups saw the vigilantes begin to develop more gang-like tendencies, becoming the aggressors as well as defenders. The two gangs which developed in Southall were called the Holy Smokes and Tooti Nungs, also written as Tuti Nangs. The Holy Smokes, or Holies, came from the old part of Southall which is situated around the Gurdwara Sri Guru Singh Sabha temple. The later Tooti Nungs, or Toots, were situated in the new part of Southall to the north of the Holy Smokes area. Those who began the defence campaign with the Holy Smokes "belonged to a higher Sikh caste of Jats, a warrior race from the Punjab...Holy Smokes being a reference to the connection their parents had with the local temples. In the early eighties, a dispute broke out over the leadership of the group. Those from the lower castes felt their interests were not best being served by the Jat leaders who tended to look down on them...the lower caste broke away and formed their own gang – the Tooti Nungs

[iii]

." Translated, the Tooti Nungs means the 'Worthless Ones', it's also Sikh slang for 'Ruffians'. According to former Southall resident Sanjeev, "the originators of the Toots and Holies were considered successful in defending Southall, they protected the community, and they grew in numbers and in reputation. Then the next generation came along, even some who'd been recruited by originators, and they fed off the reputation. But they weren't vigilantes, they were developing into two opposing criminal syndicates" – those early leaders were said to be Malkiat Hyare in the Smokes and Jhalmal 'Jumbo' Dhillon and Armarjit Sandhu in the Toots

[iv]

. A series of symptomatic assaults, property attacks and intimidating incidents began to occur in Southall with greater frequency in the early 1980's, police believed them to be unconnected. Then in the spring of 1983 a further series of assaults and reprisals forced police to propose a full inquiry into the violence. Up until this point there had been a total ignorance of Asian gangs in Southall by the Metropolitan Police. An intelligence gathering exercise began, liaising with H.M Immigration and Special Branch, and there was a growing conviction that these gangs had connections in other cities with Asian communities, and that criminal elements may have roots in India. It was confirmed during enquiries that gang members in Southall were involved in illegal immigration and trafficking of drugs, namely heroin. Furthermore an unexpected finding was participation in ritual rape offences, having implications for the whole community, disclosing a new behavioural aspect. The known rape of a single girl makes her unmarriable and so there was the serious problem of those incidents never being disclosed.
In 1981 Operation Fisherman was launched by Customs to address trafficking conspiracies being organised by members of Britain's Asian community. Customs believed that Indian and Pakistani criminals in Britain had taken over from Iranians as the principal traffickers of heroin into the United Kingdom, having originally been concerned mainly with helping illegal immigrants gain access into the country

[v]

. Operation Fisherman focussed its investigation on employees of the Acme Cleaning Company which worked at terminal three of Heathrow airport in west London. What they observed during their surveillance was drug courier Santokh Johal, from Amritsar in the Punjab, travel on an Air India flight from Delhi carrying a holdall. When he left the plane at Heathrow he was intercepted by employees of the Acme Cleaning Company, including Inderpal Makh from Slough, as he walked through the pier connecting to the terminal. He was then guided to an emergency exit where the holdall was handed over to Inderjeet Balu of Southall, who put it into a black rubbish sack and into a vehicle belonging to the cleaning company. The holdall contained 17.1 kilograms of heroin worth an estimated value of £2.2million. The four men involved, all of whom were aged between 37 and 43, were later jailed for a total of more than 30 years. It was later suggested, although unconfirmed, that the violence which had been occurring amongst young gang members was orchestrated by older criminals to defer attention from such smuggling operations. The series of violent incidents included pitched battles whereby axes, machetes and ceremonial maces were used. It escalated with a series of fire bombings, kidnappings, shootings and stabbings. A key incident which cemented the prolonged rivalry between the two gangs was in May 1983 when the Holy Smokes attacked two members of the Tooti Nungs leaving one victim with permanent brain damage.
Three years after the this incident, and following a succession of tit-for-tat reprisals, a more notable and carefully planned revenge attack was plotted by members of the Tooti Nungs. It occurred at The Green in Southall when twenty Toots arrived jumping out of a car convoy and chasing down their rivals. People fled in terror as Jaswir Bumbra, 23, was chased down the street with blood streaming from 22 stab wounds. Another victim, Armarjit Khumra, 21, was surrounded and slashed from his ear to his chin. Bhinder Gill, 30, of Hayes, was jailed for five years after the events. He was one of the leaders of the Toots, who were by now heavily involved in drugs and protection rackets. He had two previous convictions for affray which had arisen from gang fights against the Holies. Other members of the Toots jailed in relation to this incident were Surinder Dadwal, 21, and his brother Ranjit, 18, both of Southall. The Toots' Jhalmal Dhillon, then 24 of Trinity Road, Southall, was jailed for two years for his involvement. He was acquitted of a second charge of wounding with intent against Amarjit Khumra. Four other members of the Tooti Nungs who were aged between 17 and 20 and were all cleared of affray. Another major battle between the two rival gangs took place outside the Victory Public House at Southall Green on March 8 1985. Sukhcharm Singh Bath, 30, also known as Lugi, admitted that he was a senior member of the Tooti Nungs at the time of this fight in which a rival gang member was badly knifed. Jaswir Singh Bumbrha, known as Sharka, was left with serious injuries. He had cuts to both eyes and hands and was slashed from the middle of his back to his thigh. He spent five days in hospital and had to undergo numerous stitches. Again the attack had been started by a group of 10 and 15 members of the Tooti Nungs who set upon members of the Holy Smokes as their pub was closing. Victim Bumbrha had been drinking at the pub with friends when they saw members of the Tooti Nungs walking down the road. As they sat on a wall to observe, two cars pulled up with more Toots who got out and confronted Bumbrha before assaulting him. Sukhcharm Singh Bath who denied fighting and causing an affray was acquitted by a jury at Isleworth Crown Court.
More members of the Tooti Nungs went on to be convicted of violence against the Holy Smokes, including a 17-year-old boy who stabbed his rival at a petrol station near Southall Green. The 17-year-old and his 16-year-old co-defendant arrived at the location where they intimidated a rival provoking a fight. During the fight a knife was produced and used to stab the Holy Smokes member in the upper torso. The defendant who denied wounding was remanded in custody. The Holy Smokes were equally as capable of arranging vicious ambushes against rivals and during one trial in 1986 they were accused by a judge of trying to reduce London's streets to the Chicago of the 1930's. The comment was made during a month long trial, the seventh in a series involving the Holy Smokes, in which six defendants were found guilty of conspiring to cause grievous bodily harm and affray. Their victims the 'Billy Brothers', or 'Billy Boys', included Nahim Illyas and Mohammed Ayub who noticed that they had been followed by a transit van as they drove home from a wedding in north London. It was suggested at court that they and their associates were involved in an attack whereby Holy Smokes member Surjip Dhami was injured the previous day. Fearing retaliation Illyas and Ayub picked up three of their associates outside Willesden Library before parking up at Willesden Green police station for safety. The transit van then appeared, wedging the victims into their car parking space. According to witnesses between six and thirty Indians jumped out of the back of the van, smashed the car's windows and begun to beat the occupants with various weapons. Zia Zammurad was stabbed in the leg and Sajjad Jabbar received such a heavy knife blow that the blade went through his arm. Several minutes after the attack outside Willesden police station had ended police picked up five members of the Holy Smokes gang in a transit van. The police told the prosecution that they'd found a number of hockey sticks, iron bars and knives in the van but the five denied any knowledge of the attack which had just took place. A sixth person was later arrested after their fingerprints were found on the windscreen of the victims' car. He claimed that he had touched the windscreen to warn the passengers they were about to be attacked. At the end of the trial the jury found all six people guilty of conspiring to cause grievous bodily harm and causing an affray. The three eldest defendants, who were Jaspir Bal, 23, from Hanworth, Onkar Sehajpal, 23, from Greenford, and Surjip Dhami, 24, also from Greenford, were each sentenced to two years imprisonment. The younger members, who included 17-year-old Sitkar Sehajpal of Greenford and Ranjit Braich of Wolverhampton, were given two years youth custody. Mr Brian Lett, prosecuting said, "We cannot be certain these men were actually responsible for the attack but one can accept that they were a part of the conspiracy."
Behind the violence, heroin seizures linking back to Southall gangs were occurring on an annual basis. Shortly after the smuggling conspiracy involving Heathrow airport cleaning contractors another business front was identified within a heroin conspiracy, it came after a petrol bomb attack in July 1984 in which one man died. The business in question was the newspaper offices of the 'Sandesh Weekly' paper in Dilloway Yard, Southall. The conspiracy began when 62-year-old Arnold Futerman, who served four years for conspiring to forge $50million, put Sandesh Weekly proprietor Ajit Singh Sat-Bhambra, 51, in contact with an Irishman from Finsbury Park who was eager to obtain a consignment of heroin. The Irishman had intended to distribute the heroin to the street level and turn a profit, but needed a connected source who could deliver the goods. Sat-Bhambra then went about arranging the smuggling of over £300,000 worth of heroin, four-and-a-half kilos, which arrived at Heathrow on May 30 1984. Drug courier Hans Raj Sharma was recruited to carry the heroin by Delhi travel agent Satish Gupta, it would be the first time Sharma had ever travelled outside of India. Gupta's brother Babu Lal was a London-based Indian envoy working at the Indian High Commisson, he would meet Sharma to collect the heroin. For reasons undisclosed, Customs officers had begun their observations a few months before the smuggling operation which centred on Sat-Bhambra, Futerman and the Irishman. Customs officer Daniel Curry told Isleworth Crown Court that during their operation "the three men were seen to meet at various West End hotels, including the Cumberland, the Churchill and the Waldorf, and once at a Sikh temple in Woolwich. We captured snatches of their conversations which indicated that the defendant [Sat-Bhambra] was being pressed to come up with the goods. He was arranging to bring in heroin and [Irishman] was very keen to get hold of this heroin. Then at one meeting which took place in a pub only days before the importation, there was a mention of four-and-a-half kilos" – almost the exact quantity that finally came through. On May 30 1984 Customs officers observed Hans Raj Sharma with a suitcase of heroin being met at Heathrow airport by Babu Lal Gupta, Sharma was arrested and Gupta was spoken to. Gupta claimed immunity and refused to talk to police, with diplomatic privilege nothing could be done about him and he was released. Customs officers continued to observe the movements of Gupta, Sat-Bhambra and the Irishman.
When Sat-Bhambra was arrested in March the following year, he was questioned about the importation of drugs, telling Customs officers: "I'm a person working against such people." Ironically, Sat-Bhambra's Sandesh Weekly paper had been running a high profile anti-drugs campaign and at one point his defence claimed that his meetings with Futerman and the Irishman was solely an information collating exercise as part of this campaign. He also claimed to have neither met nor known Babu Lal Gupta and Hans Raj Sharma, oblivious to the fact he had been under surveillance. On May 22 1984 Customs observed a meeting between Gupta and Sat-Bhambra in the foyer of the Palm Beach Casino, Berkeley Street – Gupta had arrived using his official car bearing a diplomatic number plate. Following Babu Lal Gupta's release on May 30 he was observed by Customs officers again meeting up with Sat-Bhambra, furthermore a visiting card with the name Satish Gupta was also found at Sat-Bhambra's home address in Burns Avenue, Southall. Observations continued in June 1984 during which a number of meetings between Sat-Bhambra and the Irishman took place at the Master Brewer motel in Hillingdon. They had conversations about money owed to the Irishman in lieu of the drugs, there were problems for Sat-Bhambra who had not been able to do what was asked. Meanwhile Babu Lal Gupta was in the process of using his diplomatic immunity to escape justice, going back to India on June 10 1984. Then in July 1984 a petrol bomb was thrown into the offices of the Sandesh Weekly premises in Dilloway Yard, Southall. Kartar Singh, the sub-editor, died as a result of the fire leading police to launch a murder inquiry. The offices were burned to the ground although Sat-Bhambra continued to run the paper from his home address. Sat-Bhambra, despite becoming involved in the heroin conspiracy, ran a highly regarded newspaper. He used this paper to take a stand against the Khalistan movement

[vi]

, claiming that he had acted as a paid informer for the Indian government on the activities of extremists seeking an independent Khalistan. He believed these extremists to be responsible for the firebombing of the newspaper office. Arnold Futerman turned Queens Evidence in the heroin trial, telling the court how he had been a go-between for Sat-Bhambra and the Irishman, undergoing rigorous cross-examination for four hours during which time Nigel Milne QC, defending, suggested that he should be in the dock instead of his client. Whilst it was not alleged that Sat-Bhambra physically brought the heroin into the country, he was a person who played a part in bringing it in. Sentencing him to nine years in prison Judge Derek Holden said: "it gives me no pleasure to sentence a man like you because you are clearly well-educated, intelligent and running a good newspaper." Sharma who'd never been out of India before was sentenced to six-and-a-half years for his part in the operation. The Irishman had his charges dropped at the committal stage.
The spectre of the Southall gangs was raised again over another drugs trial at Isleworth Crown Court in 1986 whereby four men were jailed for heroin trafficking. One of the men, who was said to have held sway over the others, was reputed to be a member of the Toots. However, the jury went on to reject this assertion and concluded that two brothers who ran stalls in Brentford arcade were the wholesalers. Brothers Manohar and Prempal Desour, of Chiswick, and Simon Dean, also of Chiswick, were all found guilty of conspiring together with others to supply heroin in December and January 1985-86. The brothers were convicted of possessing 99.6g of heroin and supplying it to Jhalmal Dhillon of Southall. Dhillon was acquitted on the conspiracy charge and one of possession and discharged. The men had been subjects of a Customs and Excise operation which involved months' observations centred on the Brentford Arcade where the Desour brothers had two stalls, selling Indian ornaments and jewellery, but very few customers. Prempal Desour was observed carrying boxes which would later be picked up by Dhillon and Dean. On January 16 1986 customs officers raided the arcade having arrested Dhillon as he left with approximately £10,000 worth of heroin. The search of the arcade revealed more than 30g of heroin concealed in ornamental candle holders. Meanwhile other officers visited Dean's flat where they found scales, wrappers, heroin and cannabis. They also found lists of names with apparent calculations beside them. Dean was a self-confessed heroin addict at the time but denied supplying others to fund his habit. Manohar Desour claimed that he was a user who was supplied by Toots' Dhillon. He told the court he owed Dhillon a lot of money and was under pressure from the Tooti Nungs to repay it, whilst Prempal said he merely did as he was told. Dhillon, who was discharged, claimed he did not know what was in the boxes he collected from the arcade and said he was simply doing a delivery job. Shortly after the trial there was a resurgence and escalation in violent gang-related activity in the Southall area, it would lead to the uncovering of what police referred to as the "Asian Mafia".
In February 1988 fears of street warfare led to extra police being drafted to the Southall area of west London after a series of 16 incidents including assaults, between the Holy Smokes and Tooti Nungs, took place over a 10 day period

[vii]

. One series of exchanges was sparked off by an attack on a boy of 15 with ties to the Holy Smokes. He was slashed by a group of Tooti Nungs wielding Stanley knives and hammers. In a revenge attack the Holy Smokes assaulted a member of their rivals by piercing his lungs with a sword. It was followed by petrol bombings at the homes of two alleged gang leaders

[viii]

. Nine people were arrested and charged as swords, meat clevers, rice fails, knives and a ceremonial pike called a khanda, were seized by police in the previous few days. A total of 25 arrests were made during the 10 day conflicts, prompting police and Asian community leaders to meet in west London. They made appeals to parents to help them to control the youngsters taking part in these conflicts

[ix]

. The participants of the violence tended to be the youngest members, composed of teenagers and sometimes even children, recruited by siblings and friends and encouraged to gain status through street battles and petty crime. According to a former police informer, and associate of the Holy Smokes, Nasir explained to author Tony Thompson that there was no shortage of willing recruits. "In Southall, everyone wants to prove themselves…but if they are not good academically or have a talent for some sport, the only way they can become the bigger man is to join one of the gangs. The older ones go up to the little ones in the school playgrounds and pat them on the back. They tell them they are big men and that they respect them. The kids love to hear that. Once you've told them, they will do whatever you want. Rob someone, stab someone, burgle a house, steal a car or get involved in a big ruck…If you live in Southall, you simply have to get involved with the gangs. You have no choice. If you have a friend who is in one gang and you're seen walking with him or talking to him, you're immediately put into a pigeon-hole. People will assume you're on one side or another and then the next time there's any trouble, you become a target. So you have to join in order to prevent yourself from becoming a victim.

[x]

"
It was later alleged that the violence had been encouraged by more senior members of the Southall gangs in a bid to distract police attention away from organised activity, however, the violence had the opposite effect, later leading to the launch of Operation Shampoo. By August 1988 police had round up 53 alleged members of the Holy Smokes and Tooti Nungs, however, it was reported that their leaders formed a truce and many witnesses began retracting their statements. Others had been intimidated and many charges against those arrested were dropped. Police became hampered by the reluctance of the community to talk about the gangs, whilst local solicitor Harold Persaud said "No one will admit to being a gang member. People are seldom convicted because witnesses are unreliable."

[xi]

A few months later in October 1988 a confidential report from Scotland Yard was shared with the Sunday Times, detailing a special intelligence section on Sikh 'godfathers' controlling organised crime networks in Britain, shielded by strong community ties. It stated that officers had evidenced and observed key figures behind the gangs, including alleged godfathers, having a series of secret meetings in London, Birmingham, Cardiff and Glasgow to agree heroin trafficking deals. Furthermore they believed that the organisation were also involved in a £4million life insurance fraud, selling policies to bogus clients and stealing commission from large insurance companies. Operation Shampoo went on to explore concerns that the older criminals had formed connections with their counterparts in other cities across Britain with large Indian communities, such as Birmingham, Wolverhampton and Leicester, and were participating in organised crimes such as human trafficking and drug smuggling. The operation was composed jointly by Scotland Yard and Customs and Excise targeting the Asian Mafia – a term given by the police and media. The investigation that was Operation Shampoo was led by Detective Superintendent Roy Herridge and involved 14 detectives based at Ruislip police station in Middlesex. They were backed by police officers, the territorial support group, regional crime squad, flying squad, central drugs squad, customs, immigration, passport office and Post Office investigators

[xii]

. The investigation began in January 1989 and extended to the rest of Britain. Furthermore, during the course of Operation Shampoo links were traced even further afield to the US, Canada, West Germany, Belgium, Sweden, Norway, India and Pakistan.
After several months of work, in August 1989, 152 people linked to the Holy Smokes and Tooti Nungs were arrested for a range of crimes including insurance and building society fraud, a £200,000 credit card fraud and an international network for smuggling illegal immigrants into Britain and elsewhere. Other aspects of the investigation were focusing on activities ranging from armed robbery, drug trafficking and blackmail. The operation recovered £500,000 worth of heroin, stolen cars, forged documents and stolen credit cards. The investigation took place across three continents and also involved police from West Germany and Belgium. A number of the arrests took in older figures, some of whom were wealthy businessmen, however, despite the offences and individuals being linked, there was no suggestion of an overall controlling figure. Roy Herridge at the beginning of the operation was not convinced that organised crime existed in Southall, however, the level of organisation matched and some say even exceeded that of well-known organisations such as the Triads

[xiii]

[xiv]

. Detectives unfolded a pattern of offences involving illegal immigrants from the Indian sub-continent being smuggled into Britain with forged passports and being provided with more documentation to help them obtain employment. Using false documents, some gained employment as postmen and allegedly stole credit cards which were used to buy goods around the country. They bought travellers cheques to trade for drugs in other countries. The highly sophisticated organisation was believed to have more than 2,000 members across all tiers, predominantly 'soldiers' with dozens at higher ranks. Whilst at the highest level the leaders, who were highly respected businessmen, conspired together running their own parts of the conspiracy, but at the lowest level the street gangs were visible rivals in the community of Southall. Operating on a less sophisticated level, the local gangs in Southall were alleged to run protection rackets against legitimate Asian businesses unrelated to the conspiracy. Whilst the police suspected this was occurring, few businesses were willing to substantiate the claims. However, as part of Operation Shampoo, police detectives watching members of the Tooti Nungs witnessed the beginning of a protection racket at the shop of Mohinder Parmar, Tottenham Wines, in Greenford.
Mr Parmar's ordeal began when Jhalmal Dhillon, Amarjit Sandhu and two others bundled him into the back of a BMW. Sandhu was alleged to have told Parmar that "We delivered £40,000 worth of alcohol to you and we agreed you would pay half the price. You have not paid our money"

[xv]

. Parmar protested that he knew nothing about it at which point it was alleged that Sandhu opened a bag at his feet, showing inside what appeared to be a gun, saying "If I have to open the zip again you will find yourself a dead man"

[xvi]

. Other threats were made, including one to blow up the shop with his family in it if Parmar did not find the cash. Mohinder Parmar was extremely frightened. There was no truth at all in what the men had said about the drinks delivery. The next day Dhillon saw Parmar at the shop and warned him that he had five days to get the cash. And the following day he called again. Mr Parmar asked what would happen if he paid the money and was allegedly told "This shop will be ours. No-one will come here and cause any trouble."

[xvii]

This was a protection racket, if the money was handed over then the shop would be in the protection of the gang. Mohinder Parmar decided to pay the money and when Dhillon came the next day he handed over a bag stuffed full of notes in the car outside. He was also made to incriminate himself by saying into a tape recorder that he knew the money was for buying stolen gold. Outside unbeknown to the Toots members detectives were watching and a month later Dhillon and Sandhu were arrested. Both remained silent whilst questioned - their two accomplices were never identified. Jhalmal Dhillon and Armarjit Sandhu were each jailed for four years. Operation Shampoo was disbanded after its short lived success in 1989 whilst the Holy Smokes and Tooti Nungs continued to profit from crime for a number of years to come. The Toots and Holies would later take on new monikers with the young men of this period going on to become the senior figures of Southall and its surrounds in the 1990's. They would also go on to forge links with criminals from a wide ranging backgrounds including the Turkish heroin godfathers and the ruthless Yardies.
Click Here for Part Five: Brixton Bwoy
---