Guardian
Rather than yet another police operation, former criminals like me can help young people escape a life of violence

Trevor Hercules
guardian.co.uk, Thursday 19 January 2012 10.35 GMT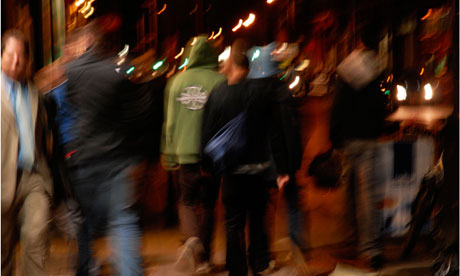 Young people's upbringing can lead to a 'social deprivation mindset'. Photograph: Janine Wiedel Photolibrary / Ala/Alamy

Hearing the news about Operation Trident, the Metropolitan police unit set up to tackle gun crime in black communities, taking on teenage gangs, all I could think was: "How many different units are they going to set up to tackle this?" Something new has to be done.

I was in care most of my formative years, and from there I moved on to hostels, detention centres, borstals – and finally prison. Ten years of my life was spent in jail, two in solitary confinement. Oh, and by the way I am black. The reason I mention this is that I always had a problem with my identity living in a predominantly white society, and at times I felt very alienated.

Like many young people living in our most deprived communities, I had a certain mindset. On large council estates, where people are struggling to make ends meet while being bombarded by adverts for the latest goods and fashions they will never be able to afford, economic deprivation can lead to young people feeling like social outcasts; alienated and abandoned. Often parents and extended family members are unemployed and feelings of negativity and despair begin to rub off. Maybe members of their family have been through the criminal justice system – certainly someone in their peer group will have been. These young people know about drugs, crime and violence, and they know how to make money without having to work for it.

Their world view – which I call a social deprivation mindset – lacks a moral dimension, and has little interest in social responsibility, or interaction with society as a whole. They have their own codes and belief system that rules the day, regardless of society. A code which includes: joining gangs, sticking to your postcode, no grassing, stealing, social disobedience, dislike of the police, carrying knives, joining in with bad behaviour, confrontations and even riots. In school it means playing up in class, being a bully, refusing to learn and bunking off school.

Worst of all, these young people enforce their own justice with chilling consequences. But this attitude makes them feel part of something, and gives them a feeling of belonging which they believe society does not offer. They also think it will ease the everyday pressures and confrontations that they and their siblings have to face living in gang-controlled areas.

Yet this thinking is very dangerous, and pulls others into its clutches. Young people think: "We have nothing, so we have nothing to lose." They have not had proper moral guidance from family, schools or society, or been taught that they have real options. We as a society have a duty to our young. The fact that so many young people are being excluded from schools, being put into Pupil Referral Units, imprisoned, caught up in the criminal justice system and are taking part in murders of other young people should be cause enough to set alarm bells ringing. Because these young people are products of our society.

We can only change this mindset by re-educating them in school, with classes that teach them moral and spiritual values. They need to be taught about a work ethic throughout their school life – these things should now be standard schooling.

Thankfully I changed my life. I had to go through a long process; there was no one I respected in authority. I had to spend many years in prison before I realised there was much more to me. People like me need to be utilised – especially among the black community, where many of these youngsters are lacking black male role models. Prison is a place where people can become amenable to change. But advice and help has to come from people that young people will really listen to; from people they can relate to and who can inspire them to change.

Today I run a mentoring programme, and speak in prisons and schools with support from my local MP, Justine Greening. I have just given a talk at the Houses of Parliament on reducing re-offending: I have come a long way. People like me, who were and are disillusioned with a society that they believed alienated them have so much to offer society if we bring them in from the cold – and we can. We need to be utilised to direct these young people on the right course. If I can change then almost anybody can.