The 1700's to 1940

In the 1700's and 1800's London was plagued with crime and gangs. During this time it would have been considered the gang capital of the world. As the city grew and expanded outwards the wealthier residents moved into the suburbs leaving only the most deprived in the central areas to fend for themselves. Prostitution, robbery, pick-pocketing and protection rackteering were amongst the most common crimes. Children as young as 10 could face capital punishment for crimes as petty as thievery. There were a mix of gangs, usually known as mobs, who claimed territory - usually a stretch of street - and often took their name from their territory (i.e. Elephant & Castle Boys). There were also a number of crime families who operated in districts surrounding what is today known as the 'City of London'.

In the East End alone it was estimated that a third of the population lived below the poverty line and 50% of children born their died before the age of 5. Most of the gangs and families listed below were active between the late 1800's and up to 1940. By 1937 the police and government identified what were London's most gang infested districts, they were Hackney & Hoxton, the East End (referring to Tower Hamlets & Newham), north London (Islington, Camden & Tottenham), north east London (referring to Stratford, Leytonstone, Leyton) and the West End which was being carved up by organised firms from across the city.

Up to as many as 70 gangs battled on London streets from the 1900's onwards. Gun battles, stabbings, teen on teen killings, colours and gang identities, sub-cliques, rivalries and alliances were all common features of the old Gangs of London. The social disorganisation theory holds true, with many of the affected areas still suffering from gangs today (some even have the same names).

The book "Gangs of London" by Brian McDonald chronicles the gang histoies (click here to buy book or see more details). Below are excerpts from the chapter "Street Gangs" (NB: below is copyright of Brian McDonald 2010; this piece may have to be removed at short notice if requested by the author whose contact details we could not obtain).

Brian McDonald; "Street Gangs" (excerpts from the Gangs of London, 2010, p.59-72)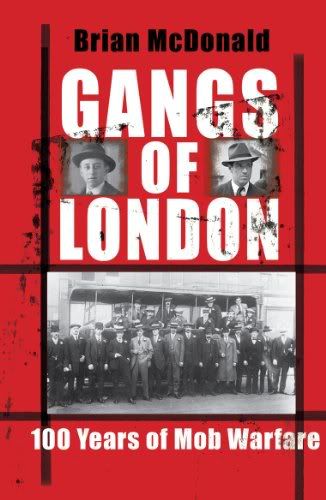 Street Gangs became a national concern in the United Kingdom from around 1870 onwards. Newspapers began to carry reports of their fights and they became known generally as 'scuttlers' in Manchester, 'sloggers' and later 'peaky blinders' in Birmingham, and 'cornermen' in Liverpool. Their principle pastime was fighting territorial battles against their neighbours, armed with buckled belts, sticks, stones, knives and even guns. Many of the gangs were identified simply by the streets where they lived...London became plagued by street gangs...especially in the poor, overcrowded areas of east and south London.

In the early part of the nineteenth century, criminals infested London's rookeries, rundown areas of dense housing. The most notorious was a stinking slum surrounded by festering ditches at Jacob's Island, on the Bermondsey side of the Thames. This served for Dicken's description of Fagin's den of thieves in Oliver Twist and where his villain, Bill Sikes, comes to grief. Another, at Clerkenwell, straddled the area between Farringdon Road, Clerkenwell Green and St. John's Street. A short distance away, running south from Old Street, was the notorious St. Luke's rookery, and close to that was the St. Giles rookery covering the area where Tottenham Court Road tube station now stands. These rookeries bred and attracted thieves, who targeted the better off parts of London: Highbury, Hampstead, the West End and the City. In the east and southeast London, targets included docks and cargo ships. The ghettos had the highest incidences of murder and provided hangmen with hundreds of clients. They contained 'flash houses' that served as training places for young thieves and meeting places for established thieves to plan robberies and sell or exchange their plunder. The narrow streets were crammed with dilapidated dwellings and underground escape routes weaved their way through the slums...When the rookeries were cleared in the mid-1800's, the crooks remained and simply operated from better premises. A series of incidents give a flavour of the underworld at the turn of the Nineteenth Century into the Twentieth, much of it involving teenagers.

One of the most notable of the early gangs was the Green Gate, named after the Green Gate public house in City Road, Hoxton, east London. Once a wealthy area, Hoxton had been abandoned by its middle classes, who were lured out to the space and fresh air of the new suburbs. Their place was taken by poor workers, serving the heavy industries that boomed after the completion of the Regents Canal in 1820, and soon the area became one of the most densley populated in Europe...

On Christmas Eve, [in Hakcney, 1881] a gang came down Ottaway Street in Lower Clapton, known as 'Tiger Bay', and picked a quarrel with Charles 'Ginger' Eaton outside his home at number nine. The attackers were the Dove Row gang from Haggerston. Eaton fought back. He explained in court, 'I went into them the same as they did to me, and took my own defence'. The nineteen-year-old Eaton handled himself well enough for the gang to run off, pursued by Eaton's father waving a poker. They shouted back that they would remember when they came again.

Late on New Year's Day, the trouble shifted to the Rendlesham Arms in Stillman Street, Clapton, when about twenty of the Dove Row gang went looking for Eaton. When they failed to find him, they started a general rumpus that quickly got out of hand. Three pub dwellers were stabbed in the face, one of whom nearly died from a severed artery. Police rounded up seven Dove Row boys: William Hubbard, David Jennings, Henry Kirby, Frederick Ball, Patrick Kennedy, David Williams, and John Collins. They were charged with riot and wounding. Kennedy was aged twenty; the rest were in their late teens. Others were charged with occasioning actual bodily harm. John Collins denied being there but did admit once belonging to the street fighting gang in the days when Old Nichol Street, in Bethnal Green, fought Dove Row. He had given it up after his head was split in three places. The Central Criminal Court did not believe him...[they] were jailed...all with hard labour (compulsory physical work imposed in addition to imprisonment).

The Green Gate gang made the news again on 21 February 1882, when Samuel Wallers was attacked by George Collins on Shaftesbury Street, close to City Road. The argument had been about the merits of teetotallers, who Collins had little regard for. When his offer of a drink from a flask was refused, he informed Wallers that he was a pugilist...He then knocked Wallers down....Collins' belief in his pugilistic ability came unstuck when Wallers got up and knocked him down. Collins regained his feet and pulled a pistol from his pocket, only for Wallers to brush it aside and knock him down again. At this, the gun went off. Two policemen heard the shot and came and arrested Collins, taking two guns from him...

Guns seem to have been a more serious problem among the London street gangs than in Manchester and Liverpool. On 31 May 1885, William Brown, aged sixteen, Harry Foxcroft, eighteen, and a man named Mason shot James Page in Upper Street, Islington, in return for a previous attack on some of their pals. They then threatened John 'Bunny' Ayres, a resident of White Lion Street, one of the most violent locations in London, with similar treatment...

Brown, who admitted wounding Page and firing a shot at Harry Hobbs, received five years' penal servitude, Foxcroft, who resided at Easton Street, Clerkenwell, which was another notorious north London location, got eighteen months with hard labour.

West London too was gripped by street warfare. In 1888, a long-running series of fights were staged between the Fitzroy Place Boys, from the back of Tottenham Court Road, and the Lisson Grove gang, from Marylebone. Matters came to a head in May, when Frank Cole of the Fitzroy crowd was found with his girlfiend, Cissy Chapman, in rival territory outside Madame Tussaud's Waxworks on Marylebone Road. Cole was challenged by two Lisson Grove Boys. 'Do you know any of the Fitzroy Place lads?' one asked. 'Yes, and glad to know them too.' came Cole's not-too-clever reply.

Twenty more lads were whistled up to help punch and kick Cole to the ground, giving Cissy a black eye when she asked why it took so many of them.

The following evening, Cole gathered together seven or eight friends and went looking for revenge. They met at 'the Fair', a disused ground between Tottenham Court Road and Whitfield Street, where they were joined by a half-dozen others. Soon, they spotted a Lisson lad in nearby Howland Street...knocked him down and kicked him. Then they set off to search the Green Man public house on Euston Road and, finding nothing, moved on to Regent's Park, a collecting point for the Lisson Grove gang.

It was there that Joe Rumbold and a girl passed some of the gang, who jostled him. A brief row followed and [George] Galletly pulled a knife and stabbed Rumbold twice in the back and neck. He staggered a few hundred yards before collapsing, later dying in a cab taking him to hospital.

Police arrested eight youths...and charged them with murder...[The youths] saw a newspaper notice offering a pardon in exchange for evidence. Both denied being members of the Fitzroy Place gang and the Decker Gang (a misnaming by police of the Dials gang, from Seven Dials)...[Gallety] was sentenced to death, later commuted to life imprisonment due to his age...others were sentenced to short terms with hard labour.

In the 1890s, clashes between the Somers Town Boys, located just north of King's Cross, and the Clerkenwell Boys, from south of Pentonville Road, led to several shootings and stabbings. Police described the gang members as being employed in their spare time in faction fighting. Gangs were able to buy firearms from pawnbrokers for around ten shillings apiece and it was not unusual for twenty or more youths to wander the streets looking for rivals to shoot at...

A numbr of gangs went by the name Forty Thieves, the most famous being one in 1820s New York and another later on in south London. [John] Carey remained a member of the east London version and was jailed again in 1896, with three others, for burglary. Police described them as members of a dangerous gang. In 1906, Carey was sentenced to five years penal servitude, with Jeremiah Barry and Samuel Bromley, for robbery with violence...

On 7 March 1897, fifty to sixty Bethnal Green Boys, forerunners of Dodger Mullins' gang, went hunting for Hackney's Broadway Boys, a street mob that located at Haggerston: they fired shots at any they came across. Terrified residents ducked bullets whizzing overhead, richocheting off buildings and smacking into shops. A shower of bottles and bricks accompanied the pistol shots. Charles Luton was shot in the knee and lamed. Joseph Norton, who doged six bulets, hid and watched the gang run by. He then followed and grabbed Joseph Fitzpatrick and held him for the police. Frederick Millard had five shots fired at him and, in the harsh employment environment of the time, lost his job for attending police court on four occasions. George Morgan had a revolver pointed in his face and was asked if he was one of the Broadway fellows, to which he was pleased to reply that he was not. He watched them fire shots at a young man and into an ice-cream shop. Six youths, aged sixteen to nineteen, were arrested after witnesses reported seeing them dumping revolvers into Regent's canal...

Halloween worked its magic on 31 October 1897 in Islington, when the Pentonville Boys challenged the Grosvenor Street Boys to a fight, as part of an ongoing war. These particular Grosvenors were schoolboys, who considered the offer then declined it. No matter: Billy Bond shot Alfred Webb in the leg. Bond had declared his intention of shooting someone that night and it appears he believed Webb had shown some inclination to fight...

The name Sabini came up at the Central Criminal Court in June 1898, when Augustus, of Eyre Hill Street in the heart of Clerkenwell Sabini territory, was shot at by a crowd of about thirty boys. It appears on this occasion that a Sabini was an innocent victim, who had declined to have a fight. One youth, sixteen-year-old Alfred Smith, had the indignity of being given one days' imprisonment.

Better-off neighbourhoods had no immunity to gang warfare. In 1900, Chelsea Bay Boys and Sands End Boys received a not from their neighbours, the Manor Street Boys, to come and fight,a follow-up to a previous skirmish outside Lewis's Club in Kings Road. They met in Oakham Street (now Oakley Street), once the home of explorer Robert Falcon Scott and close to the residences of writers and the professional classes: here they battled with studded belts with large buckles. Blood splattered the pavement as gangs of teenagers went at it. Evidence suggests the two gangs had been warring for some time, mostly with their heavy-buckled belts, a popular weapon at the time, as they could be worn legitimately but could cause considerable damage...

In October 1902, Russian Jews belonging to the Bessarabian Society were in conflict with Polish Jews belonging to the Odessa Society. The quarrel...was continued in Whitechapel. On top of this, both were deeply into squeezing money and favours from immigrant tradespeople, who could not go to the police for fear of arrest for their own illicit occupations. The 'Bessas', who had the strongest grip on the protection business, were challenged by envious Odessas. A series of fights culminated in a good old barney in the York Minister pub in Philpot Street, squashed into the area in which Jack Spot and the Kray twins would later blossom. Lots of cuttings and shootings led to one death and several prison sentences for the Bessa Arabs....

At the turn of the century, London became a focal point for criminal gangs. Mass immigration had seen a wave of Irish, Scots, Jews and Italians arriving, plus a homegrown influx from the English countryside and cities. Unemployment became a major problem, to the point where many Britson sought refuge in the United States, bringing some respite to provincial cities. Soldiers returning from the Boer War swelled the number of unemployed. Other major cities, especially Manchester, saw a decline in gang activity, which was often attributed to the success of the new Lads' Club movement and the growth in popularity of sports such as football, which diverted youthful energies from violence. However, the capital saw, if anything, a movement toward more serious forms of gangsterism. While some old street and neighbourhood rivalries persisted, the heavier street thugs graduated to organised or semi-organised villainy.

Joblessness inevitably leads to an increase in gambling, prostitution and petty and organised crime. All sections of the city's vast working class communities now turned their hand to making a living by any means, only relenting for a spell at the onset of World War One. With the stretching of police resources, to deal with an increasingly militant women's suffrage movement, the scene was set for a new chapter in the story of London's gangland.
List of Gangs 1870-1940 London
Abbey Street Boys

Aldgate Mob

Balham Boys

Barnsbury Boys

Battersea Boys

Bay Boys

Bemerton Boys

Bermondsey Boys

Bessarabians

Black Boy Alley Gang

Blind Beggar Gang

Borough Boys

Bow Road Gang

Brick Lane Boys

Brixton Boys

Broad Mob (Camden Town)

Broadway Boys (Hackney)

Brummagen Boys

Camden Town Gang

Canonbury Boys

Carrick Gang

City Road Boys

Cortesi Brothers

Dalston Boys

Donkey Row Gang

Dove Row Gang

Dover Road Boys (Lambeth)

Duckett Street Boy

Elephant & Castle Boys

Fann Street Gang

Finsbury Gang

Finsbury Park Gang

Flash Mob

Forty Thieves

Globe Bridge Gang (Bow)

Goose Green Boys

Green Gate Gang

Grosvenor Street Boys

Hackney Mob

Hawkhurst Gang

Houndsditch Gang

Hoxton Mob

Islington Mob

Kentish Town Mob

Kings Cross Gang

Lambeth Boys

MacDaniel Gang

Manor Street Boys

Messina Brothers

New Cross Boys

Nile Mob

Odessians

Pentonville Boys

Red Hands (Deptford)

Rotherhithe Boys

Sabini Brothers

Sands End Boys

Seven Dials Gang

Silver Hatchets (Islington)

Somers Town Boys

Spanish Gang

Swell Mob

The Walker Gang

Tiger Yard Boys

Titanic Mob

Vendetta Mob

Walworth Road Boys

Wandsworth Boys

Wapping Boys

Watney Streeters

Whitechapel Mob

White Gang

White Lion Gang

Yiddishers